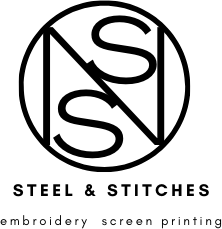 Create custom apparel for your brand, event, or business.
Excellence in every stitch.
From work to play, add some bling along the way!
Custom apparel, T- shirts & more
Apparel to fit any occasion
Shop by category and find the perfect product and decoration method for your field. Need help? Speak to one of our representatives about your specific needs.
We offer Services to meet all of your custom print needs. From Screen Printing to Embroidery Steel & Stitches is your one stop shop. Learn more about our featured services today!